John Anthony - Composer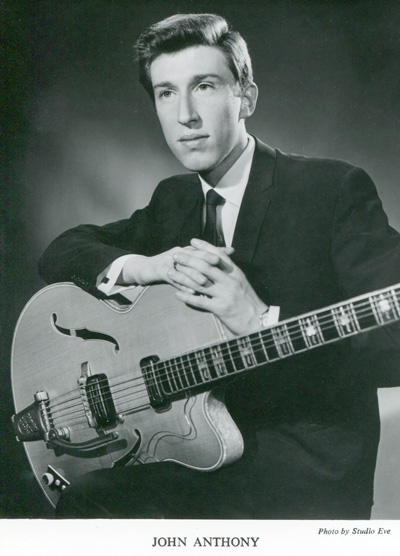 John Anthony in 1963 with his new Hofner Committee guitar
1950s The early radio days as a teenage listener to the 'wireless'.
I would spend hours listening to the BBC Radio programmes with famous stars of Variety, such as Tommy Trinder, Ken Dodd, Jimmy James, Charlie Chester, Tommy Cooper, Bob Monkhouse, Ken Piatt, David Nixon and Cardew 'The Cad' Robinson. I thought how marvellous it was for these people to be broadcasting to millions of listeners. I never expected, for one moment, that in later years I would be broadcasting on radio, or working in cabaret, with these household names.
1952 The British Charts began.
Radio Luxembourg presented the Top 20. International stars like Johnny Ray, Frankie Laine and Guy Mitchell controlled the hit parade. Meanwhile, I had taken ai interest in popular guitar instrumentals and the Les Paul and Mary Ford hit, Vaya Con Dios, was instilled upon my mind. Their sound was multitrack recording and the rock 'n' roll big guitar sound had not yet been fully developed. I would listen to wonderful string orchestrations that came from the Frank Chacksfield Orchestra, with hits like Ebb Tide and the Ron Goodwin Orchestra playing Limelight. Again, never imagining that in later years these great orchestras would record my own compositions.
1955-1960 My first guitar influence.
I had been captivated by the early guitar sounds of Bert Weedon, which would continue to influence me enormously. Around the same period Duane Eddy had introduced the tremelo twangy sound and The Shadows' unique style of playing entered the charts. This was the beginning of a generation of guitar solo instrumentalists and I spent hours developing their sounds with a new Fender Twin Reverb amplifier and echo unit.
1963 My first offer of professional work.
I had been taking guitar lessons from BBC guitarist Denis Newey, joined a small local dance band and was carefully listening to music programmes such as Music While You Work. A very fine BBC Organist named Jimmy Leach had learned of my work following a charity show I did at ABC TV studios. Jimmy was looking for a guitarist for his band for a 16 week summer season at the King's Hall and promenade bandstand, Aberystwyth, North Wales. I did an audition, landed the job and was now on my way into the professional entertainment business. Engagements in theatres, theatre clubs, summer seasons, Europe and the Mediterranean, South Africa and Kenya became part of my work schedule.
1964 My first broadcast
Playing a cabaret booking at Bernard Manning's Embassy Club, I was seen by two BBC producers, namely Geoff Lawrence and Jim Casey. The following week I received a telephone call and was booked to play on Worker's Playtime in a 'live' transmission from the Government Training Centre, Aintree in Liverpool. I had now created my own guitar sounds of the era, and this led to a series of BBC broadcasts in variety shows and radio inserts with my own musicians. Broadcasts in Malta and appearances on TV in the UK, Tenerife and as far away as Kenya on Voice of Kenya Television followed.
1970s Writing my own music.
Having covered music by other composers I wanted, so much, to compose my own. I set about writing instrumental themes and actually played one of my compositions on radio. Producer Peter Pilbeam decided that instead of being a 'guitar instrumental' the music was more suited to full orchestral work. Just a Little Note, Time For Romance and A Certain Kind of Feeling became library instrumentals for the BBC Northern Dance Orchestra with Strings. The Frank Chacksfield Orchestra recorded a beautiful version of A certain Kind of Feeling for the Reditune worldwide background music service.
1980-2000 Making records.
I had now reached a point in my solo career where I was developing a strong cabaret act, billed as a 'Guitarist/Entertainer'. Audiences would ask if I had recorded any of the music I performed on stage. With this idea in mind, President Records brought out two LP's entitled Guitar Talk and Guitar Goes Travelling, a compilation of music titles from around the world.
I had found that easy listening music was in demand and was signed to the Pickwick Records label. My first recording for Pickwick, Midnight Guitar Serenade, released through their fast selling 'Ditto' cassette range, sold extremely well in the UK and abroad.
Carlton Home Entertainments (a subsidiary of Carlton TV) acquired Pickwick Records at a later stage. By this time the compact disc had become popular and mv new recording for them was entitled, No.1 Love Songs, a collection of 25 No.1 British chart hits.
The interest for rock 'n' roll music today is still as popular as it has ever been. Carlton Records released a further CD called Rebel Rousers. This was a compilation of my cover versions of all the big hits by guitar players such as Bert Weedon, The Shadows, Jet Harris, Duane Eddy, The Ventures, Santo and Johnny and Vic Flick.
2002 Films - Classic Background Music
I have spent a most enjoyable lifetime playing and recording other composers' music. However, I could not have foreseen that a melody I had composed 30 years ago, which meant so much to me at the time, would become so popular in today's Film and TV industry.
A library piece I had composed in 1972 entitled, Time for Romance, was used as a background music track in the award winnig film, The Full Monty, plus Jackie Brown, Thirteenth Fioor and, more recently, Monster's Inc. and the Mel Gibson movie, Signs. An added bonus came when the renowned film theme composer, Ron Goodwin and his orchestra performed a superb rendition of my music for the KPM library.
To Date Golden Guitar Years CD
When Peter Cox asked me to write my own compositions for a CD I felt rather privileged. I had already listened in depth to the KPM library, which contains the works of some of the finest composers in our music industry.
I wish to thank Peter, who gave me tremendous encouragement throughout the production of this CD; also Curtis Schwartz for his help, patience and recording skills; the musicians who played my compositions with such care and dedication and, in particular, Vinny Parker, my keyboard accompanist, who was with me all the way.
I hope you, the listener, will enjoy hearing my CD as much as I have truly enjoyed, at long last, writing my own music for this project.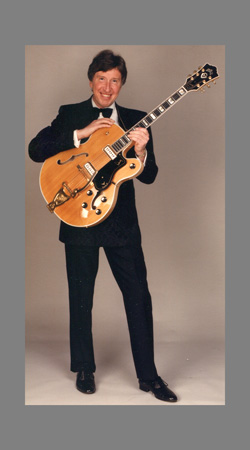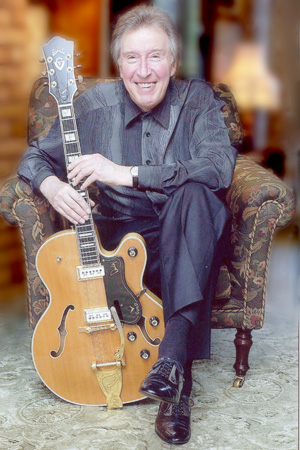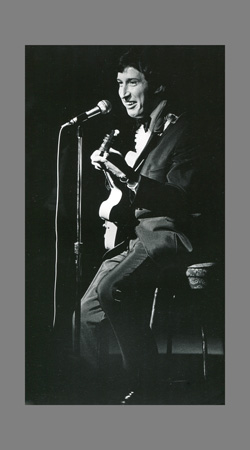 EMI Production Music
30 Golden Square
London
W1F 9LD
Tel: 020 3059 3000